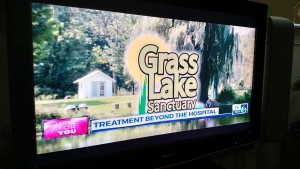 We are so excited that Grass Lake Sanctuary and the Women's Wellness Retreats were featured in this interview on Lansing's television station WLNS. Thank you Patricia Johannes for speaking from your heart on behalf of GLS. We want to thank all the Women's Wellness Alumni who speak about Grass Lake Sanctuary to their friends, families and communities. Your words touch others' lives and allow more connections to occur! That grass roots communication keeps our Women's Wellness Retreats filled and allows the healing to continue year after year. In this interview Patricia speaks about the healing that occurs when women who have survived breast cancer come together at the Women's Wellness Retreats in a supported environment in nature. She talks about the gift of learning how to receive love and care and a weekend she will never forget.
"The whole weekend was a weekend of love and caring, I just can't say enough," Johannes said.
This will mark the 7th season of Grass Lakes Sanctuary offering Women's Wellness retreats. Thanks to a grant from Susan G. Komen, Grass Lake offers a fully-funded retreat for local breast cancer survivors.
To watch the interview click here: >Interview with Patricia Johannes